F

mily Album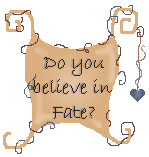 Have you ever seen a white wedding dress with red polka-dots?
Or a groom dressed in Levis and tuxedo?
Our Wedding
October 6, 1990

We even made the Front Page!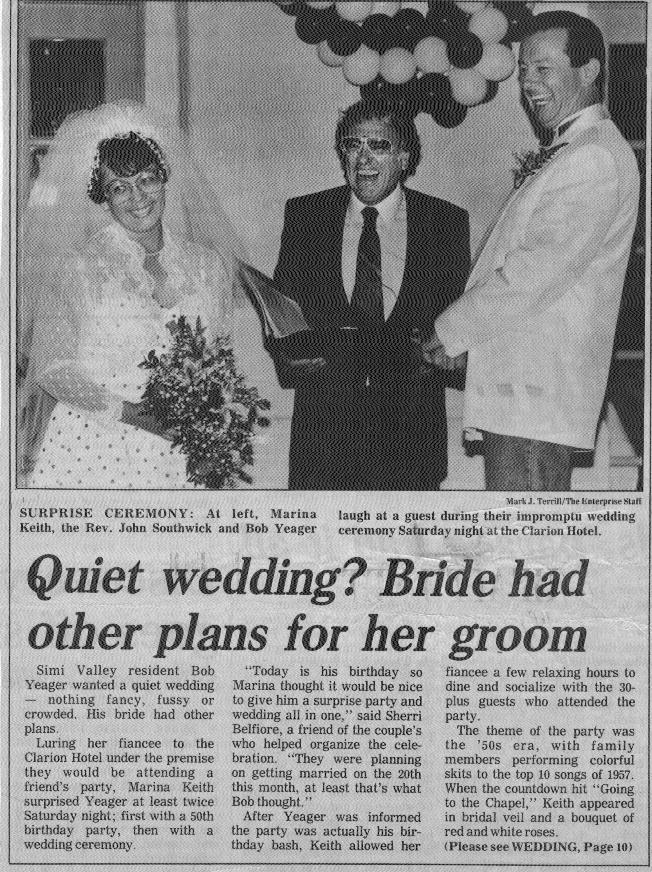 (cont from Front Page) "This is for real Dad. Say yes" was written on a note given to Yeager while his sons haphazardly dressed their father in a white tuxedo jacket and red bow tie. "I've never done anything quite like this," the Rev. John Southwick told the couple before performing the ceremony. "I've done a lot of weddings in the last 12 or 13 years, but I was concerned this one would be my last." After Southwick voiced his concerns, the groom quipped: "But it's not over yet reverend."
If you've read Forever Friends, you know that Bob and I met at a Toastmasters International meeting. Ours was truly love at first sight. Well, almost at 'first' sight.


Bob says he was attracted to me long before I knew him. That's because we were not in the same Toastmasters group. He was in a singles group with my oldest son, Bill, and my group was maritally mixed. After the weekly meeting, Bob, Bill and some of their friends would go for coffee. Bob and Bill became very good friends. Because I'd had my own business for many years, every time Bob would talk about his desire to start a business, Bill would say to him, "Oh you should meet my Mom!"


Well, that's exactly what happened. Bob and I finally met and a year later we formed a business together; Yeager & Sons Inc. Two years later, we were married. And 20 years later, we are still madly in love.
Picture taken at Our Wedding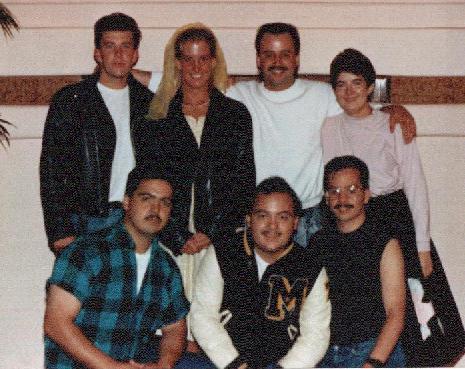 Our Children
Erich, Katie, Bob Jr., Sandy
Jeff, Doug, Bill
The top row are Bob's children, and the 2nd row are mine. But they are all OUR kids. We are so very proud of their accomplishments and the fine, responsible adults they've turned out to be.


Between them, we've been blessed with 11 wonderful grandkids; Alicia, Jessica, Nick, Katie, Aislynn, PJ, Ethan, Makenna, Morgan, Garrett and Briana.
Update 10/28/2000: Jeff & Suzy were married today.
Update 9/29/2002: Ken & Sandy were married today. On the way to the wedding, we got an excited call from Jeff saying, "We've got twins!"
Update 9/29/2002: Twin girls make it 13 ... Hannah and Gracie.
Update 4/09/2003: Doug & Jen (Ruzic) were married today. Jen brings to this union three children; JB, KD and Joseph making it 16.
Update 11/28/2003: Birth of Catalina (Lina) makes it 17.
Update 4/17/2004: Erich & Masako were married today.
Update 1/28/2005: Birth of Magdalena (Maggie) makes it 18.
Update 11/21/2007: Birth of Peyton makes it 19. Wow!
Update 9/19/2013: Brian & Katie were married today.

Omigosh, we're great-grandparents!!!
Update 3/2/2008: Marks the birth of Aidan Lynn, our first great-grandchild.
Update 12/17/2009: Birth of Dominic, 2nd great-grandchild
Update 6/26/2012: Birth of Andrew James, 3rd great-grandchild

Last but not least ...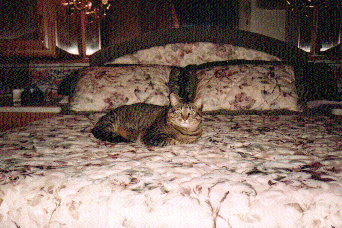 Our Spoiled Girl
Twiggles
aka CleoCATra
(Queen of the Motorhome)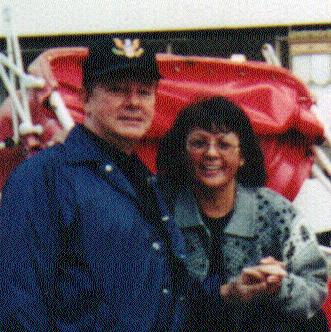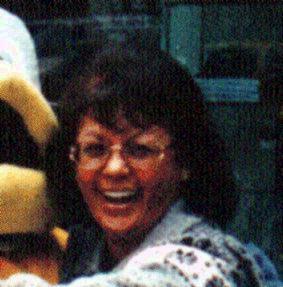 Bob & Marina
November 1999
New York City
Being a business owner is not always as glamorous as it's depicted. Owning a business is like having another child - only this one is totally dependent upon you for its growth and well-being. It can't tell you where it hurts when things aren't going well. All you can do is give it lots of love and nuturing, monitor its report cards and pray to God for guidance. Wow! It really IS like a big kid!


After seven years, Bob and I were finally able to take a long, well-deserved vacation. Of course, we took CleoCATra with us. We traveled over 10,000 miles in four months by motorhome. We visited with family and friends whom we'd sorely neglected and toured 32 states along the way. This was one of our day trips to New York City.
Please Return to Home Page
to Sign My GuestBook




---
[Cousin Judy] [Forever Friends] [Everyday Reward]
[Family Album] [Nifty '50s] [MIDI-Minded Marina's Jukebox]
[One Small Gesture] Rose's Dream] [A Thousand Marbles]
[The List] [Poetry or Song?] [Happy Everything]