Most of what you'll find here were e-mails filed under Gotta Save. Just couldn't bring myself to part with them.

If you're anything like me, I have to laugh at the humor of the later Erma Bombeck, or Andy Rooney, and I love George Carlin. They all have this talent to make us see the humor in everyday, real life situations. Click on "The Joys of Womanhood" to see what I mean.






FOR EVERY MAN who thinks women "just don't get it" (sometime) ... this is for you!


FOR EVERY WOMAN who thinks men are "totally crude" (sometime) ... this is for you!





FOR THOSE who are "shamelessly in love"; who think life is perfect and that your spouse, significant other, housemate or whatever phraseology you're in to can do no wrong ... this is for you.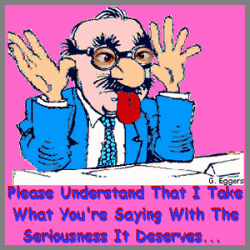 It is not my intention to gain credit for the work and talent of others. So, if you see something that was not intended to be freely used and distributed, please let me know and I'll will remove it.