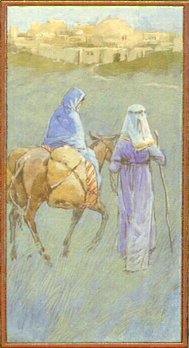 Luke 2: 1 - 7
In those days Caesar Augustus issued a decree that a census should be taken of the entire Roman world. This was the first census that took place while Quirius was governor of Syria, and everyone went to his own town to register.
So Joseph also went up from the town of Nazareth in Galilee to Judea, to Bethlehem the town of David, because he belonged to the house and line of David. He went there to register with Mary, who was pledged to be married to him and was expecting a child. While they were there, the time came for the baby to be born, and she gave birth to her first born, a son. She wrapped him in cloths and placed him in a manger, because there was no room for them in the inn.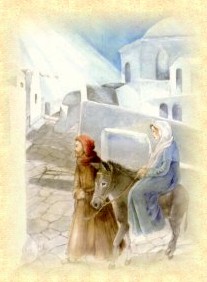 Foot Notes
Caesar's decree for a census of the entire Roman empire made it necessary for Joseph and Mary to leave their hometown, Nazareth, and journey 70 miles to the Judean village of Bethlehem.
Bands of cloth were used to keep a baby warm and give it a sense of security. These cloths were believed to protect its internal organs.
Stables were often with calves with feeding troughs (mangers) carved into the rock walls. The surroundings were dark and dirty.





---
[Cousin Judy] [Forever Friends] [Everyday Reward]
[One Small Gesture] Rose's Dream] [A Thousand Marbles]
[Poetry in Song] [Happy Everything] [Hello RAOKans]